HCE (Home & Community Educators)
Marquette County HCE will award (1) $500.00 general scholarship.
Read More...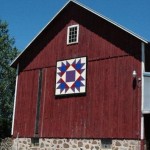 Marquette County Home & Community Education Association (HCE) is working with you and Marquette County groups to create, hang, and promote the Barn Quilts of Marquette County! NEWLY REVISED Colorful maps of the "Barn Quilts and Hidden History Mural Trail" are now available at area libraries, stores, and motels. Or stop by the Visitor's Information […]
Read More...