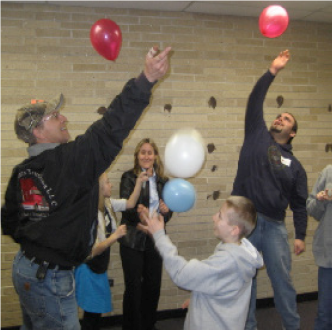 Mindfulness-Enhanced Strengthening Families Program is a fun, educational program for youth ages 10-14 and  their parents or caregivers. It helps families to use time-tested tools and mindfulness practices that are proven to reduce stress, improve communication, build teen resilience and success and encourage fun while learning together.
Program Details and Information MSFP Fall 2019 Information Flier or contact Sue Allen, 608-297-3139 or susan.allen@wisc.edu
Register by October 7th – Program starts October 14, 2019.
Register online at https://go.wisc.edu/12j4v3 or print and complete a paper Registration Form MSFP Fall 2019 Registration Form.
All families benefit and all families are invited to attend. View 1:20 Youtube video.
The program is seven Monday evenings in a row, starting Monday, October 14, 2019 and ending Monday, November 25, 2019 at Montello Jr./Sr. High School.
In addition to youth, parent and family activities, you can enjoy an optional free family dinner and free childcare.
Cost is only $25 per family for all seven weeks combined even though actual costs are $600-$800 per family. We are grateful for grants and tax dollars that make this program less expensive. If the $25 fee is a financial hardship, be sure to request a full or partial scholarship. Every family with youth ages 10-14 are welcome and encouraged to attend!
Sue Allen, 608-297-3139 or susan.allen@wisc.edu